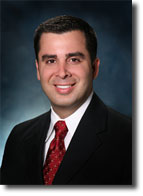 Since 2005, Dr. Gaston Berenguer has provided the highest quality dental care available to our area. Originally, he is from South Florida and an officer in the United States Army. He earned his undergraduate degree in Biology from Florida State University and his dental (D.M.D.) degree from the University of Florida. He is Board Certified by the American Board of Periodontology. As an experienced clinician in the field of cosmetic periodontology and dental implants, he has both a recognized specialty certificate and a master degree in periodontics.
Dr. Berenguer is a member of the American Academy of Periodontology, American Board of Periodontology, Florida Association of Periodontology, American Academy of Osseointegration, American Dental Association, Florida Dental Association and Atlantic Coast Dental Association. He is a member past-president of the Treasure Coast Dental Society. He is a proud volunteer of Project Christmas Smile and appreciates the importance of giving back to our community.
Dr. Berenguer's credentials include a list of professional awards, numerous publications on a variety of scientific and clinical topics, lectures, and extensive periodontal research studies. He has appointments (teaching) at the University Of Florida College of Dentistry as Clinical Associate Professor and the Atlantic Coast Dental Research Clinic at the Palm Beach Community College, as Co-Chairman. Dr. Berenguer not only understands the importance of research in the field of periodontics and advanced implant dentistry, but also understands the importance of lectures and education of others in advanced techniques in his field of expertise. He specializes and lectures on cosmetic gum surgery, cosmetic dental implants and cosmetic reconstruction with multiple dental implants. He lectures locally, state wide at state dental meeting such as FNDC (Florida National Dental Congress) and other dental organizations and universities.
On a personal note, Dr. Gaston Berenguer is happily married to his wonderful wife Dr. Candice Marie Berenguer. They are Hobe Sound Locals (HSL) and share their home with their two sons Samuel and Tristan. They also share their home with Bentley (a Boston Terrier). They all enjoy our local blue waters, the country, the mountains and adventure traveling.
Dr. Berenguer will work with all dentist in the Treasure Coast, North Palm Beach and beyond as a team member to plan and treat your comprehensive dental needs.
We look forward to meeting and providing you and your family with exceptional service, in a caring, comfortable environment.